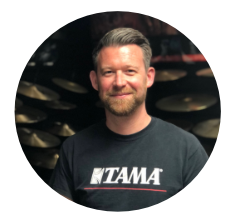 Ian Aguado-Bush
The 13th of April 2015 was the day I started as Percussion Brand Manager at Headstock Distribution working with TAMA Drums and Zildjian Cymbals, two brands I have played my entire drumming life! Three days later, I found myself at the Frankfurt Musikmesse: Talk about being thrown in the deep end! However, it was fine because I had an amazing support team around me and I could not have been made to feel more of a team member, it was incredible!
Having been a drummer all my life, getting the opportunity to work with biggest brands in the industry is a dream, and waking up each day doing knowing I get to talk about drums all day is something I can't even describe. By my very nature I am an entrepreneur and have a huge passion and drive to improve and grow, brands and businesses. When I joined Headstock, this is exactly what I wanted to do, and over my seven years, this is what I feel I have done.
The support network inside the business is incredible and I know that if I ever have an issue, I have someone who will listen. I very much look forward to the next seven years working with more brands.